ALL POSTS TAGGED heineken museum
Cheers To Amsterdam
Gouda. Tulips. Windmills. While these may be just some of the things for which Amsterdam – and Holland – is best known, there is another: the local brews. Amsterdam is home to several of the most popular ales in Holland and around the world. Most notably? Amstel, Heineken and the smaller Brouwerij 't IJ brewery.
Created on June 11, 1870, Amstel Bier has been a part of Holland's history for nearly 150 years and was named for the Amstel River – which also provided a form of refrigeration for Amstel. To help preserve the beer, ice from the canals was stored in specially-built double-walled cellars.
While Amstel was mostly consumed in Amsterdam in its early years, the beer was exported as early as 1883 to the Dutch East Indies and Great Britain. Over the course of its history, Amstel made a name for itself and gained popularity throughout the world for its unique recipe.
In 1968, Heineken International – another famous Dutch beer – took over Amstel's ownership and production was moved to the primary Heineken operations in Zoeterwoude, Holland.
Heineken's own history dates back almost as early as that of Amstel. In 1873, a young Dutch entrepreneur by the name of Gerard Heineken bought a patch of land in the centre of Amsterdam, and thus Heineken was born.
Two years later, in 1875, Heineken was awarded the Medaille D'Or during the International Maritime Exposition held in Paris. Soon after, the company began to ship there regularly, making Heineken the largest beer exporter to the country of France.
This pale lager beer, known especially for its signature green bottle and red star, was also the first European ale to be imported into the United States once prohibition dissolved in 1933. Funnily enough, though, this trademarked green bottle was only available outside of the country until February 2013 – the year Heineken adopted the familiar green ones in Holland as well. (For the previous 80 years, the beloved Heineken bottles were a simple brown colour.)
Given Heineken's long and interesting history, it's no surprise the Heineken Experience Museum offers an engaging, behind-the-scenes tour of the company's origins and facilities for visitors and locals alike. The museum also happens to be the original production facility where Gerard Heineken initially began making the brew. Today, some 25 million Heinekens are served daily across more than 190 countries around the world.
Whereas Heineken is known across the globe, the Brouwerij 't IJ – named for the nearby IJ body of water – is a newer and smaller brewery in the heart of Amsterdam. Located in what used to be an older municipal bath house, it sits beside the largest wooden windmill in all of Holland… the iconic De Gooyer windmill.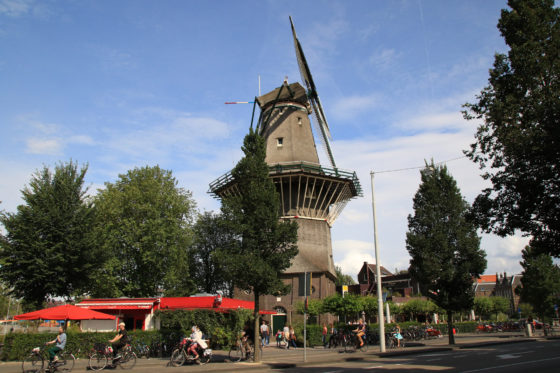 With its remarkable landmark and important part of the city's history, a tour here of the Funenkade brewery is a must. Tours are conducted in both English and Dutch, and the brewery includes an outdoor terrace to enjoy more samples.
The Brouwerij 't IJ was founded by in 1985 by Kaspar Peterson, a former musician turned local brewer and entrepreneur who sought out a facility for his home brew. As a band member of local musical group Drukwerk, Peterson had grown an affinity for Belgian-style beers while on tour. Unable to find similar locally-brewed beers, Peterson made the decision to try out this new venture. The result, of course, was the Brouwerij 't IJ brewery. Today, the company brews eight types of beer, along with three seasonal ones and some limited edition ales.
Peterson's hard work ultimately paid off, and his brewery eventually became one of the most successful in the city. Some 20 yeas later, Peterson handed over the reins to Bart Obertop and Patrick Hendrikse who took control and continue to brew these distinct beers.
However you decide to say "Cheers" in Amsterdam, no visit to this beautiful canal city is complete without a tour (or two) of the some of the city's most preferred and popular local beers. Here's to you!
5 Reasons Amsterdam Is The Best City For Biking
Amsterdam is one of the world's most cosmopolitan cities, known for its rich history, culture, and arts. It's also one of the best cities for biking, with its relatively flat land and extensive network of biking routes.
Here are some of the reasons that make Amsterdam the best city for biking:
Flat Terrain
Amsterdam is a very flat city and the only elevation gain you should expect is when you have to ride up a couple of meters over a bridge crossing a canal. Being so flat makes biking around Amsterdam a relaxing experience. You can cross the entire city quickly while barely breaking a sweat. You can also cover very long distances of more than 50km on a basic bike that will take you around the city and even out into the countryside to explore.
While the terrain is flat, don't forget about the wind. It can be a bit more challenging having to ride back to the city when the wind is blowing in your direction and such a flat country can often experience very high winds!
[caption id="attachment_15" align="alignnone" width="560"]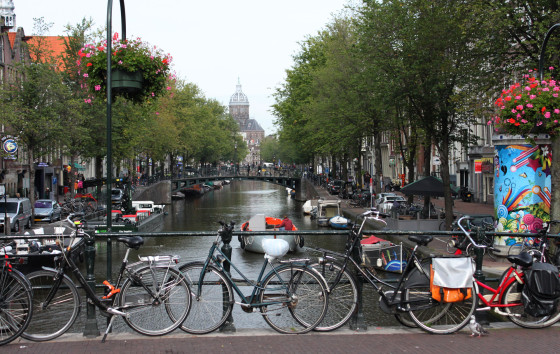 Bikes are everywhere in Amsterdam.[/caption]
Bike Paths and Infrastructure Everywhere
The Netherlands has some of the best bike infrastructure in the world making it really easy to get around the cities and countryside by bike. There are dedicated bike lanes and routes throughout the city of Amsterdam, dedicated street lights and crossing lights at intersections, and even dedicated bridges and bike / pedestrian ferries. Visitors to Amsterdam familiar with biking in their home cities are amazed by the infrastructure.
Bikes are a major mode of transportation for the Dutch and the country has been set up for this. The first clue that there is a lot of bike infrastructure is when you see the multi-level, bike lockup area next to Amsterdam Centraal Station. You may also be fortunate enough to see someone moving all of their household belongs in the city by bike.
[caption id="attachment_18" align="alignnone" width="560"]
The Rijksmuseum in Amsterdam.[/caption]
A Great City To Explore
With its canals, cafes, museums, history, culture, and architecture, Amsterdam is a great European destination and exploring it by bicycle makes the experience even more unique. You can plan to rent a bike for several days and use it to go between popular attractions like the Rijksmuseum, Van Gogh Museum, Anne Frank House, or even the Heineken Museum. You can book a guided bike tour of Amsterdam or choose one of the self-guided routes on Biking Amsterdam. Or, just simply ride around the city and explore, stopping at cafes and watching the busy streets and canals.
[caption id="attachment_17" align="alignnone" width="560"]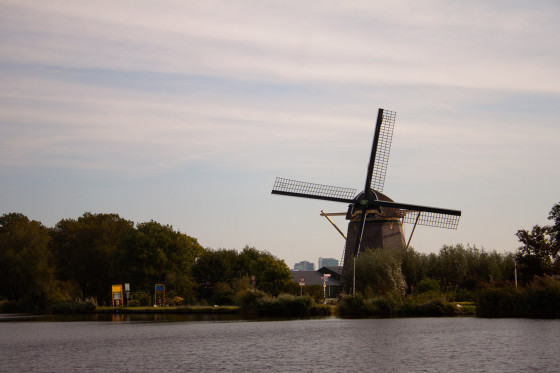 A windmill along the Amstel River, a short bike ride outside of Amsterdam.[/caption]
You Can Bike To The Dutch Countryside Quickly and Easily
The bikes routes are so good that they extend out into the countryside, well beyond the city limits, and even connect other Dutch cities and neighbouring towns together. Visitors to Amsterdam can plan longer routes outside the city by visiting the iconic windmills at Zaanse-Schans or the Muiderslot castle at the mouth of the Vecht River.
If you do plan on exploring outside of Amsterdam, it's well advised that you plan your day by taking a map, having a fully charged mobile phone (and charger, just in case), food, and water with you. It's amazing how quickly you can find yourself in the countryside and not near any cafes or conveniences.
You Feel Like A Local
Nothing makes you feel more Dutch than riding a bike in Amsterdam. While there's no way of knowing for certain, it's estimated there is more than 850,000 bikes in Amsterdam. With a population of 780,000 people, that's more than one bike per person!
So, if you're visiting Amsterdam, remember that renting a bicycle or taking a guided tour of the city are the best ways to explore and get a feel for the Dutch city.