ALL POSTS TAGGED amsterdam
Shopping Amsterdam's De 9 Straatjes (The Nine Streets)
For many people, shopping is more than a pastime. For some, it's a sport and to others it offers some much-needed retail therapy. That's where Amsterdam's De 9 Straatjes (also known as "The Nine Streets") comes in. Whatever your level of browsing or shopping expertise, these streets are unmatched when it comes to their idyllic canal-side locale, designer boutiques and quirky, one-of-a-kind stores.
https://www.instagram.com/p/BHwxFanB2sH/
Comprising nine picturesque cobblestone side streets in the city centre, De 9 Straatjes is the ultimate neighbourhood for shopping and exploring. Located in the very heart of a Unesco World Heritage site, just beyond Dam Square and en route to Rijksmuseum from the Anne Frank House, the area overflows with interesting shops and cafes. Indeed, The Nine Streets presents an ideal opportunity not just to browse and shop – but also to discover Amsterdam's rich character and heritage through its unique architectural buildings and styles.
For the browsers, shoppers and window-shoppers, this historical neighbourhood offers nearly every imaginable item on your wish list: beautiful clothes, shoes and handbags, as well as paintings, jewellery, gift items, antiques, housewares, vintage finds and more. When you've shopped 'til you've (almost) dropped, simply walk a few steps in any direction and relax at one of the area's many bars, cafes and restaurants to rest up and grab a bite.
https://www.instagram.com/p/BHslWZTg7uh/
These Nine Streets are conveniently situated at the very core of the city's canal district – straddling 17th-century waterways (from the Singel to Prinsengracht). Considered to be one of Amsterdam's most photogenic neighbourhoods, The Nine Streets was built in the first half of the 17th century. Now, approximately 400 years later, these streets are home to more than 200 shops and services that pay homage to the artisans and shopkeepers of centuries past.
Along with the art, the style, the fashion and the food… this area boasts numerous distinct architectural styles among the various buildings and homes. Among them, the Vingboon Houses that is now home to The Canal House Museum and The Felix Meritis building that dates back to 1787, and is the European center for arts, culture and science – commissioned on behalf of the Felix Meritis Society, which guided the enlightenment and ideals of the time. It was in this building that Amsterdam's inaugural concert hall (an oval) was built and hosted impressive concerts, including those for Wolfgang Amadeus Mozart.
https://www.instagram.com/p/7fmYkLugop/
If you're interested in some of the area's other cultural attractions, pay a visit to the Dutch Spectacles Museum at Gasthuismolensteeg 7 or the Biblical Museum on the Herengracht – which boasts a diverse collection of the Book (the oldest dates back to 1477) and various significant temple models, archaeological Egyptian finds and more.
A few minutes walk from The Nine Streets, you'll find the Royal Palace on Dam Square, formerly the Town Hall constructed in 1648 by renowned Dutch architect Jacob van Campen.
https://www.instagram.com/p/BH4glufh5p_/
Shopper or not, Fashionista or culture vulture… you're sure to find something for every interest around The Nine Streets – from food and drinks to architecture and culture to shopping (of course). Whatever you do, just be sure to wear your walking shoes… or simply pick up a pair as you go. After all, isn't that what exploring The Nine Streets is all about?
Explore Amsterdam's Jordaan District
Ask most anyone in the city, and you'll soon learn that the Jordaan District is one of Amsterdam's trendiest neighbourhoods – filled with amazing culinary and cultural experiences. But, this wasn't always the case. (more…)
Amsterdam's King's Day Celebration
If you've never experienced Amsterdam's King's Day (or "Koningsdag" in Dutch) – then you're in for quite a surprise.  King's Day could quite possibly be the biggest birthday party you will ever attend.  This national holiday on April 27th celebrates King Willem-Alexander's birthday – and all of Amsterdam joins in the festivities with dancing, live music, a citywide street market and a carnival-type atmosphere that takes hold over the entire city.
Can't wait to get the party started? Not to worry, some celebrations kick off the night before on King's Night (or "Koningsnacht").  This is when some of Amsterdam's best clubs, bars and pubs throw their doors open to orange-clad revellers for King's Night events and parties – some of whom carry the festivities through the night and into the next day.
[caption id="attachment_135" align="alignnone" width="560"]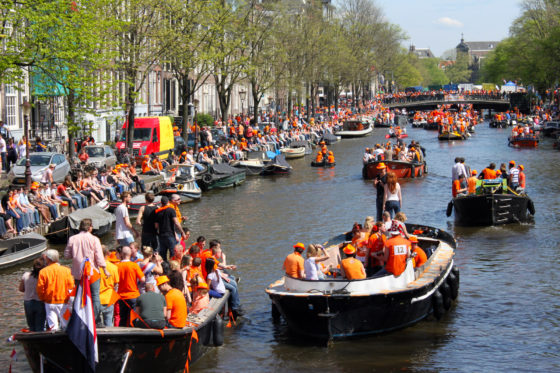 Boats create a traffic jam in the canals as everyone wears orange to celebrate King's Day in Amsterdam.[/caption]
Whatever you do, make sure to wear some orange – and if you're covered from head to toe, even better!  By the way, feel free to don that orange wig at the back of your closet and indulge in some orange face paint.  (Don't worry, you won't be alone.)  Everyone in Holland (really, everyone) attires themselves in orange on this special day to show their pride and support for the Dutch Royal Family – also known as the House of Orange-Nassau.
Once in orange, you'll fit right in – dancing along to live music in the public squares, on one of the many bridge and in the streets, all while watching the colourfully decorated boats in the canals. Kids are also part of the fun with face-painting, games and sports events.
Though King's Day is new to Holland, these birthday celebrations aren't. King's Day started as recently as 2014, but before this it was celebrated on April 30th as Queen's Day to honour Queen Beatrix, the former monarch.  However, April 30th isn't Queen Beatrix's actual birthday – it was her mother's. After Queen Beatrix took the throne, she kept Queen's Day as April 30 to celebrate and honour her mother's birthday (an especially prudent move as Queen Beatrix's actual birthday is in the wintry month of January).
So, this long-standing national celebration continues.  On King's Day, Amsterdam's streets bustle and overflow with activities and events for people of all ages with live music, parties and a citywide street market – one of the world's largest – where you can haggle, bargain and shop (an homage to Amsterdam's important trading roots).   This free open-air market kicks off at 6 in the morning and goes until about 8 o'clock in the evening.
Since you'll need to re-fuel after all that partying, head to one (or a few!) of the city's hundreds of food vendors dotting the many streets and squares.  Whatever you do, don't end the day without trying some tompouce, a sweet Dutch pastry filled with delicious cream that you won't soon forget. (For King's Day, these treats are specially decorated with bright orange icing.)
[caption id="attachment_137" align="alignnone" width="560"]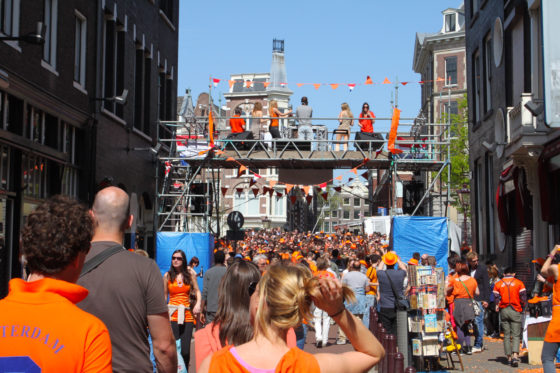 The many squares in Amsterdam are packed with people dancing during King's Day in Amsterdam.[/caption]
A few notes for visiting Amsterdam on King's Day:
There is no public transportation into the city centre on King's Day, so be prepared to walk.
Though buses and trams will operate during the day, most lines normally passing through the city centre will be re-routed.
Taxis won't be allowed to enter the city centre.
Most likely, you'll be travelling to and from your hotel (and everywhere else) on foot.
The day is a haven for pickpockets – make sure to watch your wallets, purses, electronics and never let go of any baggage you might have.
For more information on activities and events, visit King's Day in Amsterdam.
Vondelpark
Vondelpark is a famous public urban park located in the southern part of central Amsterdam, Netherlands. The park was opened in 1865 and was originally called the Nieuwe Park, which means "The New Park". After a statue of a famous Dutch writer named Joost Van den Vondel was constructed in 1867 within the park, visitors began calling the park "Vondelpark". The name stuck and a few years later, the name of the park was officially changed into Vondelpark.
This 47-hectares park is visited by almost 12 million people around the world every year. It has wonderful nature and countless outdoor activities for everyone to explore. Visitors can visit facilities such as the Open Air Theatre, several different Restaurants or Cafes throughout the park, a lot of green space for picnics and also biking and jogging paths for public. In addition, Vondelpark is also famous for the richness of art history as several statues are displayed throughout the park. One of the most famous statues is a sculpture by Pablo Picasso called The Fish, which was first displayed in 1965. Two monumental trees are also located in the park.
[caption id="attachment_94" align="alignnone" width="560"]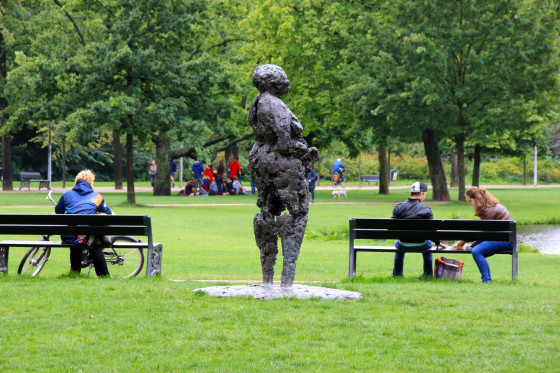 A statue in Vondelpark, Amsterdam[/caption]
With all kinds of entertainment that visitors can enjoy, Vondelpark is very popular during the summer months. In the months of June to August, the Open Air Theatre is playing numerous free concerts for the visitors, from classical to pop music, dance performances, and musical theatre performance.
The Vondelpark is one of Amsterdam's most popular attractions as both tourists and locals enjoy the relaxing atmosphere that this park has to offer. The paths throughout the park are commonly used by cyclists getting from one section of the city to the other. The paths that cut through the center of the park are more relaxed and pass the scenic ponds and grassy fields.
[caption id="attachment_93" align="alignnone" width="560"]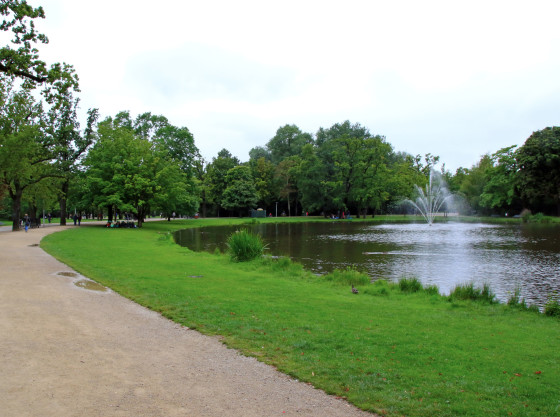 A pond in Vondelpark, Amsterdam[/caption]
Vondelpark is easily accessible from anywhere in central Amsterdam as it is close to major tram lines near Leidseplein and multiple routes for cars and bikes. Walking from Centraal Station takes about 45-minutes and biking can be done in about 15-minutes. Plan to visit Vondelpark as you explore the nearby neighbourhoods and enjoy the people and scenery right in the heart of Amsterdam.
For a scenic bike route in Amsterdam that passes through the Vondelpark along with several other parks, see the Amsterdam Parks Route.
Locking Your Bike in Amsterdam
Bike theft in Amsterdam is a major problem with estimates running at more than 50,000 bicycles stolen annually in the city. Therefore, it is important to take precautions and lock your bike properly.
Visitors to Amsterdam who are renting a bike should check that the bicycle comes with two different locks:
Wheel Lock
The wheel lock is attached to the bicycle's frame and it works by positioning a metal rod between the spokes on the back wheel so the wheel cannot turn. Generally, a key is connected to the lock and when you push a latch down, then turn and pull the key out of the mechanism, the back wheel becomes locked. You will need to look after this key to unlock the wheel lock when you return to your bike. The key stays inside the lock as you ride your bike, which helps remind you to use this lock when you leave your bike.
[caption id="attachment_39" align="alignnone" width="560"]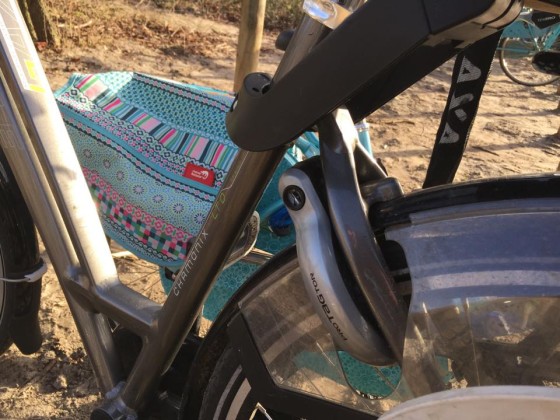 A wheel lock on the back wheel of a Dutch bike.[/caption]
Chain Lock
A fairly standard bike lock, the chain is used to wrap around the wheels, the frame, and the stationary object you are locking your bike to. The ends of the chain have different connections, some have a combination lock, some require a key. It is important to attach the lock to something stationary and wrap this chain around the wheels as thieves will steal parts of a bike, especially when it's easy because it's not locked.
[caption id="attachment_40" align="alignnone" width="560"]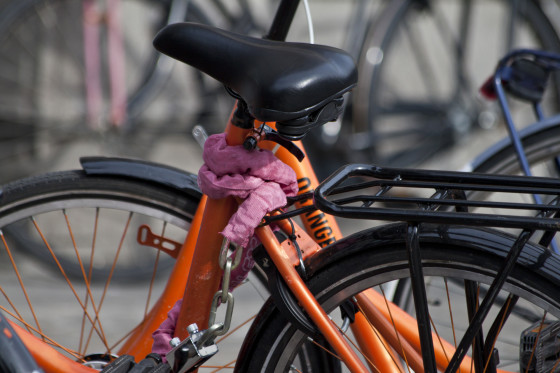 A chain lock used to lock the bicycle and its wheels.[/caption]
Before leaving the bike rental shop, make sure you have tested and know how each of the locks works. Some of the wheel locks and the connectors on the chains can be finicky and it's much easier to ask one of the bike shop employees who are familiar with the particular locks.
Locking your bike will not guarantee that someone cannot steal it as thieves have a variety of tools and tricks they use to break locks. However, using the two locks above will ensure your bike is not stolen 90% of the time. Here are some other tips to help prevent your bike from being stolen in Amsterdam:
Purchase bike insurance if you're renting. Generally there is an option of getting insurance by paying extra Euros but the amount is often fairly low. It's worth it to not have to worry about having to replace a bike for several hundred Euros!
Park in well lit areas. Thieves operate everywhere but parking your bicycle at designated bike lockups near busier areas rather than down an alley where nobody walks usually lowers the likelihood that your bike will be stolen.
Lock your bike to a stationary, secure object. There are many bike racks around Amsterdam to lock your bike to but it can sometimes be difficult to find an empty space. Make sure you lock your bike to some sort of object that is secure and won't move or break easily.
Do not leave your bike unattended and unlocked for even a minute. Even if you have just stopped to take a photo and are within 20-meters of your bike, lock it up.
Avoid using the "best" or most fancy looking bike. You are stuck with what you get when renting but the point is not to draw too much attention to your bicycle. You might notice that some residents of Amsterdam have awful looking bikes that are painted in bright solid colours, or personalized in a strange, creative way. This is a security feature to make the bike appear less appealing to steal.
[caption id="attachment_43" align="alignnone" width="560"]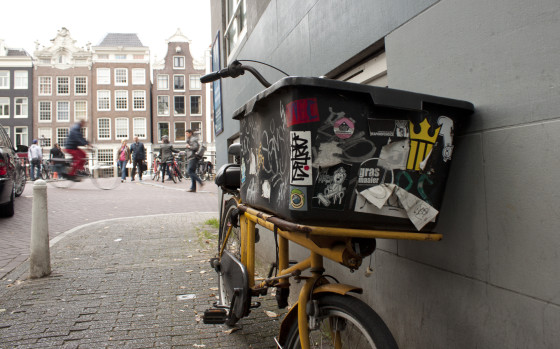 People will "customize" their bicycles for practical reasons and also to make them less desirable to steal.[/caption]
Taking these precautions will help prevent your bicycle from being stolen and ensure you enjoy your time cycling around Amsterdam.