ALL POSTS TAGGED amsterdam biking
Amsterdam Tulips in Full Bloom
If there's one thing that Amsterdam is most known for, it might just be the flourishing tulip. Along with windmills and historic attractions, this bright and beautiful flower has become a colourful symbol of Amsterdam and the Dutch countryside.
Though tulips are almost synonymous with Holland, these flowers actually originated in the Ottoman Empire and are mostly indigenous to parts of central Asia such as Iran, Pakistan and Turkey. Tulips began gaining popularity among the Dutch in 1593 thanks to a prominent botanist at the University of Leiden named Carolus Clusius, who introduced the tulip to the Dutch and they've embraced it as their own ever since.
Indeed, tulips are so beloved and prized in this country that 17th century Holland went through what's called a "tulip mania" craze in which some Dutch went as far as remortgaging their homes to get their hands on some of these precious flowers. Considered a symbol of luxury and status, some Dutch offered vast amounts of money for a single bulb. To capitalize on this "tulip mania," tulip bulbs and their futures were traded on the local stock exchange as early as 1636 – with people selling their land, homes and possessions to invest in these flowering bulbs.
Nowadays, of course, there's no need for anyone to go broke or risk losing their homes to see or possess some of these vivid flowers. However, it's worth noting that Holland still dominates the global tulip market, producing more than four billion bulbs each year.
Every spring, Holland is awash with these brilliant blooms. To fully appreciate the beauty and bounty of this national flower, these are a few must-see spots:
Keukenhof Gardens in Lisse
Here, you'll find more than 30 hectares of flowers, seven million blooms and some 800 varieties of tulips each spring. Situated roughly 35 kilometres southwest of Amsterdam in the famous Flower Strip, the Keukenhof Gardens is easily reachable by car or public transport. Don't miss your chance to see and walk through these gardens that burst with colour each spring – showing off nearly every shade of the rainbow.  Keukenhof Gardens is generally open from late March to mid-May. Kids will be equally amazed with the treasure hunt, playground, onsite petting zoo and maze.
Aalsmeer Flower Auction
For something truly out of the ordinary, make a quick visit just 25 kilometres southwest of Amsterdam to Aalsmeer for a tour of the world's largest flower auction.  Here, flowers from across the world – including places such as Colombia, Ecuador, Ethiopia, Kenya and other parts of Europe – are traded daily inside this immense 10.6 million square-foot building. In typical Dutch auction style, the price begins high and then counts down with bidders only getting a few seconds before the flowers are sold. However, with the emergence of online trading, fewer rooms in this building are being used; and there's some uncertainty as to how online trading will affect the future of Aalsmeer's traditional flower auctions. For now, be sure to come early to check out all the action. Aalsmeer is open to the public only on certain days. For more information, click here.
[caption id="attachment_128" align="alignnone" width="560"]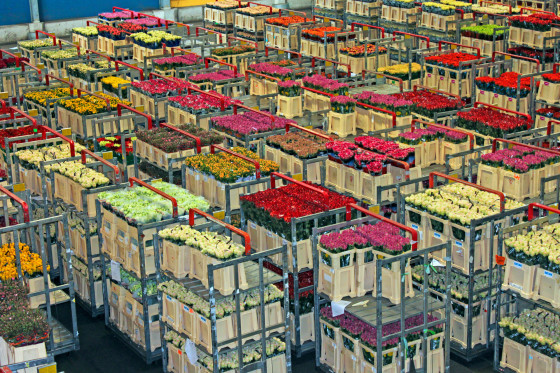 Flowers are auctioned and shipped all over the world.[/caption]
Amsterdam Tulip Museum
How exactly did the tulip make its way from Central Asia to Holland?  Why did Carolus Clusius introduce this flower to the Dutch people?  What are some of the impacts of tulip bulbs on Holland's economy and growth? For the full history of Holland's horticultural history, a visit to this unique museum is a must. Situated in the Jordaan district about two kilometres southwest of Amsterdam's Centraal Station, the Amsterdam Tulip Museum is easy to reach by foot, bike, car or public transit.
Tulip Festival
Since there can never be too many tulips, this annual event celebrates Holland's national flower by ensuring it blooms across Amsterdam each spring. Throughout the month of April, some 400,000 bright (and sometimes rare) tulips can be seen at a variety of gardens, including those of some city buildings, museums and private residences. For a full list of participating locations, get your hands on a festival guide (available in early April).
National Tulip Day
In Holland, this special January event is known as "Nationale Tulpendag" and is held in the heart of Amsterdam at Dam Square, which is blanketed with a spectacular garden of some 200,000 tulips for this one-day event. An annual tradition since 2012, this festival kicks off Holland's upcoming tulip season. An added bonus? On the afternoon of this National Tulip Day, visitors to the Square are welcomed to pick the tulips for free.
Vondelpark
Vondelpark is a famous public urban park located in the southern part of central Amsterdam, Netherlands. The park was opened in 1865 and was originally called the Nieuwe Park, which means "The New Park". After a statue of a famous Dutch writer named Joost Van den Vondel was constructed in 1867 within the park, visitors began calling the park "Vondelpark". The name stuck and a few years later, the name of the park was officially changed into Vondelpark.
This 47-hectares park is visited by almost 12 million people around the world every year. It has wonderful nature and countless outdoor activities for everyone to explore. Visitors can visit facilities such as the Open Air Theatre, several different Restaurants or Cafes throughout the park, a lot of green space for picnics and also biking and jogging paths for public. In addition, Vondelpark is also famous for the richness of art history as several statues are displayed throughout the park. One of the most famous statues is a sculpture by Pablo Picasso called The Fish, which was first displayed in 1965. Two monumental trees are also located in the park.
[caption id="attachment_94" align="alignnone" width="560"]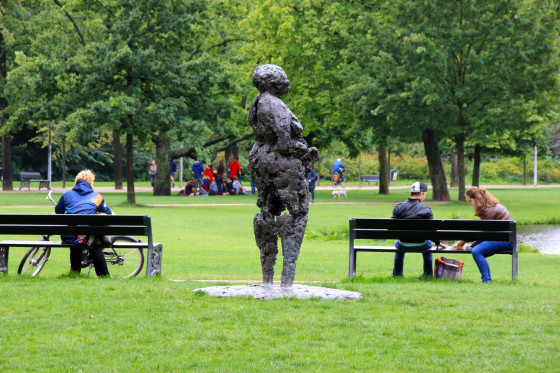 A statue in Vondelpark, Amsterdam[/caption]
With all kinds of entertainment that visitors can enjoy, Vondelpark is very popular during the summer months. In the months of June to August, the Open Air Theatre is playing numerous free concerts for the visitors, from classical to pop music, dance performances, and musical theatre performance.
The Vondelpark is one of Amsterdam's most popular attractions as both tourists and locals enjoy the relaxing atmosphere that this park has to offer. The paths throughout the park are commonly used by cyclists getting from one section of the city to the other. The paths that cut through the center of the park are more relaxed and pass the scenic ponds and grassy fields.
[caption id="attachment_93" align="alignnone" width="560"]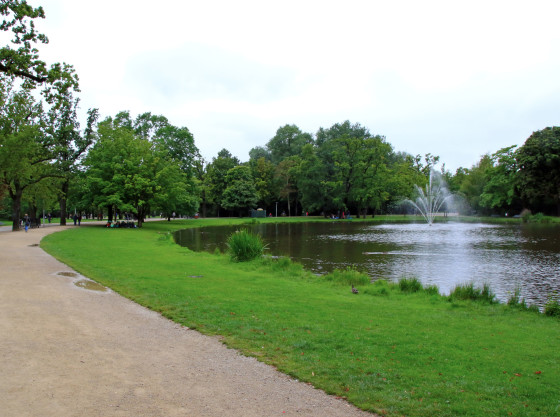 A pond in Vondelpark, Amsterdam[/caption]
Vondelpark is easily accessible from anywhere in central Amsterdam as it is close to major tram lines near Leidseplein and multiple routes for cars and bikes. Walking from Centraal Station takes about 45-minutes and biking can be done in about 15-minutes. Plan to visit Vondelpark as you explore the nearby neighbourhoods and enjoy the people and scenery right in the heart of Amsterdam.
For a scenic bike route in Amsterdam that passes through the Vondelpark along with several other parks, see the Amsterdam Parks Route.
Where To Rent A Bike
Boasting flat terrain and charming canals, Amsterdam is ideal for exploring on bicycle. But, don't take our word for it.  Just do as the locals and hop on to ride your way though the picturesque streets of this historic European city.
If you're wondering where to begin your search for a bike rental – look no further.  We've made a list for you.
Fortunately, there is no shortage of bike rental shops in Amsterdam. Here's a quick list of some places to check out:
---
AmsterBike
Email: info@amsterbike.eu
Website: www.amsterbike.eu
Address: Piet Heinkade 11A
Phone: +31 (0)20 419 9063
---
Amsterdam City Tours
Email: info@amsterdamcitytours.com
Website: www.amsterdamcitytours.com
Address: Tramplein 8A
Phone: +31 299 411 111
---
Bike City
Email: info@bikecity.nl
Website: www.bikecity.nl
Address: Bloemgracht 68-70
Phone: +31 (0)20 626 3721
---
Bike4u  (Two Locations)
Email: bike4u.amsterdam@gmail.com
Website: rentbike4u.com
Location #1: Kinkerstraat 1A
Phone: +31 (0)20 223 8548
Location #2: Geldersekade 17
Phone:  +31(0)20 233 5367
---
Damstraat Rent-a-Bike
Email: info@rentabike.nl
Website: www.rentabike.nl
Address: Damstraat 20-22
Phone: +31 (0)20 625 5029
---
Discount Bike Rental
Email: discountbikerental@gmail.com
Website: www.discountbikerental.nl
Address: Nieuwe Nieuwstraat 19
Phone: +31 (0)20 428 4040
---
MacBike  (Multiple locations)
Website: www.macbike.nl
*Visit website to send a message and make inquiries.
Location#1: Overtoom 45
Phone: +31 (0)20 683 3369
Location #2: Oosterdokskade 149 ipv 151 -1
Phone: +31 (0)20 811 5110
Location #3: Leidseplein - Weteringschans 2
Phone:  +31 (0)20 528 7688
Location #4: Central Station - Stationsplein 5
For some reason, there is no phone number listed for this shop.
Location #5: Waterlooplein 199
Phone: +31 (0)20 428 7005
---
Mike's Bike Tours
Email: mikesbiketoursamsterdam@yahoo.com
Website: www.mikesbiketoursamsterdam.com
Address: Kerkstraat 134
Phone: +31 (0)20 622 7970
---
Starbikes Rental Amsterdam
Email: info@starbikesrental.com
Website: starbikesrental.com
Address: De Ruyterkade 143
Phone: +31(0)20 620 3215
---
Have you rented a bike in Amsterdam? What's your experience? Leave us a comment below.
5 Reasons Amsterdam Is The Best City For Biking
Amsterdam is one of the world's most cosmopolitan cities, known for its rich history, culture, and arts. It's also one of the best cities for biking, with its relatively flat land and extensive network of biking routes.
Here are some of the reasons that make Amsterdam the best city for biking:
Flat Terrain
Amsterdam is a very flat city and the only elevation gain you should expect is when you have to ride up a couple of meters over a bridge crossing a canal. Being so flat makes biking around Amsterdam a relaxing experience. You can cross the entire city quickly while barely breaking a sweat. You can also cover very long distances of more than 50km on a basic bike that will take you around the city and even out into the countryside to explore.
While the terrain is flat, don't forget about the wind. It can be a bit more challenging having to ride back to the city when the wind is blowing in your direction and such a flat country can often experience very high winds!
[caption id="attachment_15" align="alignnone" width="560"]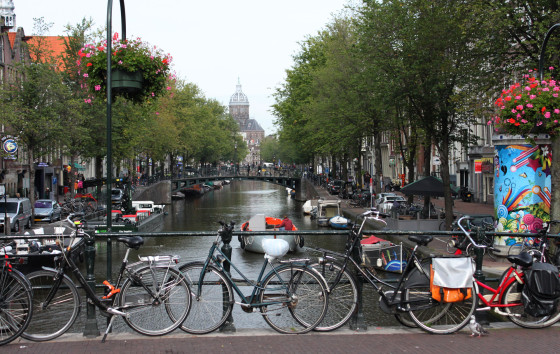 Bikes are everywhere in Amsterdam.[/caption]
Bike Paths and Infrastructure Everywhere
The Netherlands has some of the best bike infrastructure in the world making it really easy to get around the cities and countryside by bike. There are dedicated bike lanes and routes throughout the city of Amsterdam, dedicated street lights and crossing lights at intersections, and even dedicated bridges and bike / pedestrian ferries. Visitors to Amsterdam familiar with biking in their home cities are amazed by the infrastructure.
Bikes are a major mode of transportation for the Dutch and the country has been set up for this. The first clue that there is a lot of bike infrastructure is when you see the multi-level, bike lockup area next to Amsterdam Centraal Station. You may also be fortunate enough to see someone moving all of their household belongs in the city by bike.
[caption id="attachment_18" align="alignnone" width="560"]
The Rijksmuseum in Amsterdam.[/caption]
A Great City To Explore
With its canals, cafes, museums, history, culture, and architecture, Amsterdam is a great European destination and exploring it by bicycle makes the experience even more unique. You can plan to rent a bike for several days and use it to go between popular attractions like the Rijksmuseum, Van Gogh Museum, Anne Frank House, or even the Heineken Museum. You can book a guided bike tour of Amsterdam or choose one of the self-guided routes on Biking Amsterdam. Or, just simply ride around the city and explore, stopping at cafes and watching the busy streets and canals.
[caption id="attachment_17" align="alignnone" width="560"]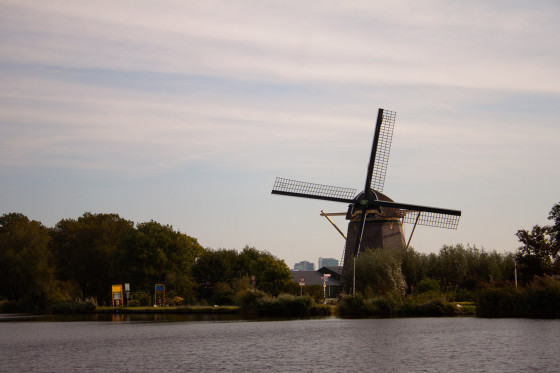 A windmill along the Amstel River, a short bike ride outside of Amsterdam.[/caption]
You Can Bike To The Dutch Countryside Quickly and Easily
The bikes routes are so good that they extend out into the countryside, well beyond the city limits, and even connect other Dutch cities and neighbouring towns together. Visitors to Amsterdam can plan longer routes outside the city by visiting the iconic windmills at Zaanse-Schans or the Muiderslot castle at the mouth of the Vecht River.
If you do plan on exploring outside of Amsterdam, it's well advised that you plan your day by taking a map, having a fully charged mobile phone (and charger, just in case), food, and water with you. It's amazing how quickly you can find yourself in the countryside and not near any cafes or conveniences.
You Feel Like A Local
Nothing makes you feel more Dutch than riding a bike in Amsterdam. While there's no way of knowing for certain, it's estimated there is more than 850,000 bikes in Amsterdam. With a population of 780,000 people, that's more than one bike per person!
So, if you're visiting Amsterdam, remember that renting a bicycle or taking a guided tour of the city are the best ways to explore and get a feel for the Dutch city.