ALL POSTS TAGGED rijksmuseum
Art & Culture at the Rijksmuseum
Originally opened in 1800, the iconic Rijksmuseum in Amsterdam has been home to some of the world's most dazzling and important works of art for more than two centuries. Though this museum has been relocated and reinvented many times over its 200-year history, it is the museum's most recent renovation that is the most notable. In fact, the Rijksmuseum reopened its doors in April 2013 after a massive 10-year transformation, one of the most significant restorations ever undertaken by a museum anywhere in the world.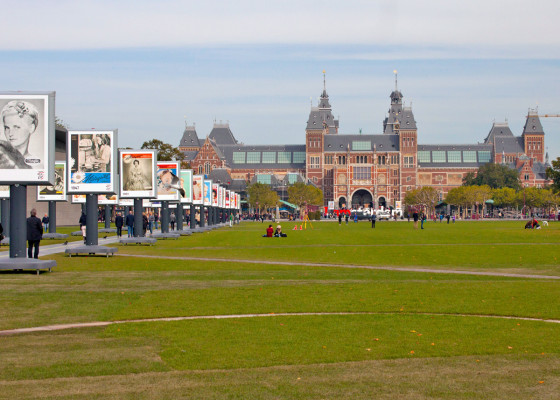 As a result, this historic 19th-century building has been updated with new facilities that include a stunning new entrance, a new Asian pavilion, beautiful gardens and 80 galleries that showcase more than 8,000 works of art and artefacts recounting some 800 years of Dutch art and history – from the Middle Ages to modern times.  This includes, of course, the renowned Gallery of Honour featuring highlights from the Dutch Golden Age.
A quick tour of this national treasure reveals some truly remarkable art pieces, with Rembrandt's The Night Watch anchoring the centre of the museum in its own distinct room. An exceptional representation of Baroque Art, The Night Watch radiates with energy in its portrayal of guard soldiers in dramatic light, a young maiden threading through the crowd, a lone dog and a captain commanding his troops.  This important piece signifies a turning point in Rembrandt's artistic career, while also revealing his creative genius.
Next to this gallery is the equally impressive Gallery of Honour, displaying the works of Vermeer, Steen, Hals and more Rembrandt. Considered the heart and soul of the Rijksmuseum, the Gallery of Honour is lined with priceless paintings along with some of Rembrandt's most spectacular pieces, including a late self-portrait, another of his son Titus as well as the noteworthy The Jewish Bride.
Another section of this gallery houses the works of Johannes Vermeer, including The Milkmaid and The Little Street, which captures the serenity of a typical day in his hometown of Delft, a Dutch city roughly 60 kilometres southwest of Amsterdam.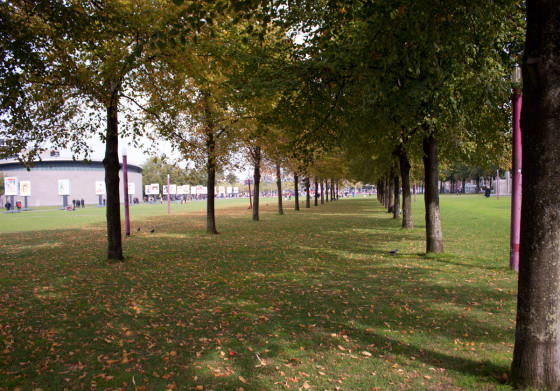 Ideally situated on Amsterdam's famous Museumplein, the Rijksmuseum is easily accessible by bicycle (as well as by car and public transit) and is about three kilometres southwest of Centraal Station in the city's affluent Oud-zuid area (translating literally to "Old South").
Hours of operation are 9:00 to 17:00 daily (including Christmas day, Boxing Day and New Year's Day). Admission is €17.50 for adults, youth aged 18 and under are free. The Rijksmuseum is located at Museumstraat 1. For more information, visit Rijksmuseum or phone +31 (0) 20 6747 000.
5 Reasons Amsterdam Is The Best City For Biking
Amsterdam is one of the world's most cosmopolitan cities, known for its rich history, culture, and arts. It's also one of the best cities for biking, with its relatively flat land and extensive network of biking routes.
Here are some of the reasons that make Amsterdam the best city for biking:
Flat Terrain
Amsterdam is a very flat city and the only elevation gain you should expect is when you have to ride up a couple of meters over a bridge crossing a canal. Being so flat makes biking around Amsterdam a relaxing experience. You can cross the entire city quickly while barely breaking a sweat. You can also cover very long distances of more than 50km on a basic bike that will take you around the city and even out into the countryside to explore.
While the terrain is flat, don't forget about the wind. It can be a bit more challenging having to ride back to the city when the wind is blowing in your direction and such a flat country can often experience very high winds!
[caption id="attachment_15" align="alignnone" width="560"]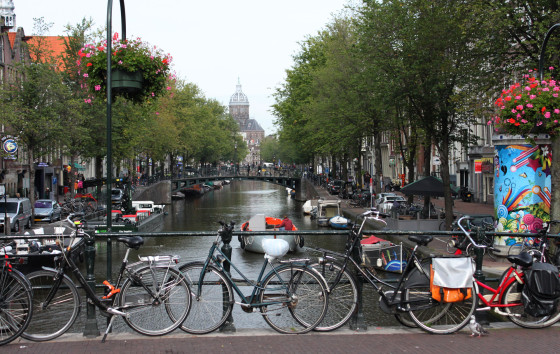 Bikes are everywhere in Amsterdam.[/caption]
Bike Paths and Infrastructure Everywhere
The Netherlands has some of the best bike infrastructure in the world making it really easy to get around the cities and countryside by bike. There are dedicated bike lanes and routes throughout the city of Amsterdam, dedicated street lights and crossing lights at intersections, and even dedicated bridges and bike / pedestrian ferries. Visitors to Amsterdam familiar with biking in their home cities are amazed by the infrastructure.
Bikes are a major mode of transportation for the Dutch and the country has been set up for this. The first clue that there is a lot of bike infrastructure is when you see the multi-level, bike lockup area next to Amsterdam Centraal Station. You may also be fortunate enough to see someone moving all of their household belongs in the city by bike.
[caption id="attachment_18" align="alignnone" width="560"]
The Rijksmuseum in Amsterdam.[/caption]
A Great City To Explore
With its canals, cafes, museums, history, culture, and architecture, Amsterdam is a great European destination and exploring it by bicycle makes the experience even more unique. You can plan to rent a bike for several days and use it to go between popular attractions like the Rijksmuseum, Van Gogh Museum, Anne Frank House, or even the Heineken Museum. You can book a guided bike tour of Amsterdam or choose one of the self-guided routes on Biking Amsterdam. Or, just simply ride around the city and explore, stopping at cafes and watching the busy streets and canals.
[caption id="attachment_17" align="alignnone" width="560"]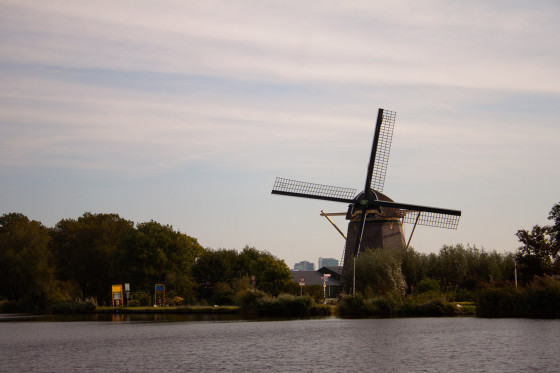 A windmill along the Amstel River, a short bike ride outside of Amsterdam.[/caption]
You Can Bike To The Dutch Countryside Quickly and Easily
The bikes routes are so good that they extend out into the countryside, well beyond the city limits, and even connect other Dutch cities and neighbouring towns together. Visitors to Amsterdam can plan longer routes outside the city by visiting the iconic windmills at Zaanse-Schans or the Muiderslot castle at the mouth of the Vecht River.
If you do plan on exploring outside of Amsterdam, it's well advised that you plan your day by taking a map, having a fully charged mobile phone (and charger, just in case), food, and water with you. It's amazing how quickly you can find yourself in the countryside and not near any cafes or conveniences.
You Feel Like A Local
Nothing makes you feel more Dutch than riding a bike in Amsterdam. While there's no way of knowing for certain, it's estimated there is more than 850,000 bikes in Amsterdam. With a population of 780,000 people, that's more than one bike per person!
So, if you're visiting Amsterdam, remember that renting a bicycle or taking a guided tour of the city are the best ways to explore and get a feel for the Dutch city.